Meet Attorney Jim Even
Sioux Falls Personal Injury Lawyer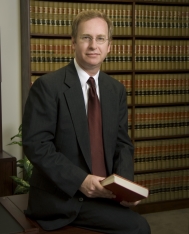 Jim Even has practiced law for over 30 years. He is admitted to practice in South Dakota State Courts, South Dakota Federal Courts, Connecticut State Courts, Connecticut Federal Courts, Massachusetts State Courts, Massachusetts Federal Courts and Minnesota State Courts.
He limits his practice to the representation of injured people and he has successfully handled hundreds of injury cases for his clients. He has resolved his clients' cases through settlement, mediation, arbitration and trial.
Jim was born in Sioux Falls, South Dakota. He graduated with honors from the University of Hartford in Hartford, Connecticut in 1984 earning a bachelor's degree in economics.
Jim earned his Juris Doctor degree in 1987 at Western New England University in Springfield, Massachusetts.
He was admitted to the Massachusetts Bar in 1987; the Connecticut Bar in 1988; the South Dakota Bar in 1990 and the Minnesota Bar in 2011.
Jim practiced law in Massachusetts and Connecticut for 6 years primarily representing insurance companies defending injury and workers' compensation cases. He was staff counsel for Aetna Insurance Company for a year.
In 1993, Jim returned home to Sioux Falls and began representing people injured in accidents. Since his return to South Dakota, his practice has been limited to representing injured people and he has not represented an insurance company. His time working for insurance companies, however, gave him an understanding of how they evaluate and handle injury claims and cases. He has worked on the defense side of injury cases and has insight into how the "other side" views cases.
Jim worked in a small personal injury firm in Sioux Falls until 2001 when he opened the Even Law Firm.
The Even Law Firm represents people who have been injured in accidents caused by the negligence of others. Jim has represented and obtained compensation and justice for hundreds of people who have been injured in car accidents, truck accidents, ATV accidents, gunshot accidents, traumatic brain injuries, neck, back and spine injuries and wrongful death claims.
Jim Even personally handles his cases. Your case will not be handed over to a legal assistant or an associate attorney at the Even Law Firm.
The Even Law Firm has recovered millions of dollars on behalf of its injured clients through settlement and jury verdict.
When he is not practicing law, Jim enjoys playing the guitar. He has played for 45 years and plays every week at his church.
Jim is married, and he and his wife have two sons.